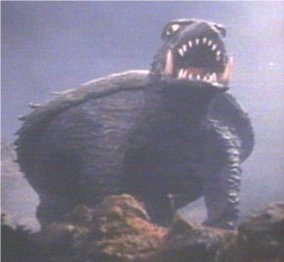 Let's be concise: England needed Japanese Movie Monster Almost Homophone Gammara to put in an own goal to advance past Paraguay. Sweden gets the benefit of a sketchy send-off early in the second half, and decide to have a competition between Zlatan and Allback as to who could make surprise starter Shaka Hislop look best between the posts, and hand Trinidad and Tobago a point. Something their players were very public about expressing doubt they would get the entire tournament. Yes, Hislop played very well, but he had a lot of shots that were directed right at him. Sweden has another game before they play England on the 20th, but that has to be in the back of their minds. They may need to win that game to advance.
Argentina was the only team that took care of business, and they play in one of the Groups of Death. They beat a game and talented Cote d'Ivoire team (The Elephants!) 2-1 (thus making that my closest prediction of the entire tournament thus far). Argentina got goals from Crespo and Saviola, but their real play maker today was Riquelme, who really controlled the midfield, and I believe assisted on both goals. He definitely set them both up. Two unofficial assists, let's say. Les Elephantes did not play as bad as the announcers made it seem. I'd say they had the run of play the majority of the game. The Argentines struck when it mattered most, and really the key difference in this game may have been the cheap, stupid foul committed by the Ivory Coast that gave Riquelme the free kick that led to Crespo's goal. Bad mistakes get punished on this level, unless, apparently, you are playing Sweden. Don't forget, England's goal also came off a free kick. Also, I lost a game of Winning Eleven 9 today because of an own goal off a set piece. So there you go. Proof. QED, bitches!
A little bit later, after I eat some humble pie with a side of crow, I'll get my Predictions for Tomorrow's games in here. They will be better than they have been thus far. How could they be worse?