An early season win over a hated division rival in their beggar's hive of a stadium on Monday Night Football, right up the preference-holes of Jawa Jaworski and Charles "I spit on 12-year-old-girls" Barkley ...
si, me gusto la empanada del Cristo
.
I picked almost every game wrong but I don't care because my team is 2-0 and looking like less of a pile of warmed-up olde rubbish than most of my NFC.
How did your favorite team do?
Week Two Recap: What the?
I have to two pour two pints of crude into Professor Badcock's Prognosticator (if you know what I mean) and draw up plans for a new
hydrodynamical slurry-sluicer
if my pick'em has any chance at all. Injuries laid several teams low, but impressive upsets and ass-kickings made this an enormously enjoyable week of NFL pleasure.
Giants
are hilariously bad. I stand by the machine: Coughlin is fired by Xmas. How about Shockey nailing a tough first down catch, then spiking the ball and getting a personal foul? How about QB Jared Sweatpants and his huge, fat ass? This is some funny stuff. I sure am looking forward to taking on the Giants at home next week at 4:15 EST.
Favre
looked sharp but they can't run the ball. Marzipan schedule will help them, but they
are
beating the bad teams. Next week is the
Superchargers
.
Unfortunately for San Diego fans, their ownership decided to fire Coach Schotzie and hired Nerfneck Turner, one of the lamest & most frustrating coaches to ever turn bright red on a sideline. The
Patriots
came out looking disciplined and focused, while the Chargers looked like a Nerfneck Turner team. FIRE TURNER!
A site called the coach is killing me is dedicated to helping Americans survive the Nerfneck Turner experience. It's a brave and lonely mission. Quoting The Mighty MJD of Deadspin, "Norv's face should be the international symbol for 'we are about to lose'."
Browns v. Bengals
: no one on this planet predicted a Bengals-Browns shootout with the
Browns
as the victors. This game was fun to watch but it was some garbage-time defense. The ol' Black and Blue Division is looking a lot more like the Two-Hand Touch Division. No wonder the
Steelers
are pulling away already, and they've got a fatty cheesecake schedule ahead of them.
Raiders
almost win in
Denver
, but instead lose in hilarious fashion as their high-priced ex-con fatass Seabass displays his tight choke collar. Denver looked entirely dominant in this game, and then I felt the sea-change. It was impressive, and the Raiders got a long TD, safety, INT and a 2-point conversion ... before Seabass was
iced
.
FUDGEFEST OF THE YEAR, FIRST NOMINATION
:
Vikes at Lions
.
This game was absolutely priceless. It featured
ten turnovers
, including a boofed snap by
Boobs Bollinger
which lost the game. The teams chipped in for
nineteen penalties
. Hey Vikings fans, did you notice that TD catch by C. Johnson, with his offensive pass interference which went uncalled? Kind of skewed the game, no? It's too bad someone had to win this one. Hi-larious.
Redskins
beat down the
Eagles
in Philly. The good news is, they use every part of the Eagle when they kill it, and they thank the Great Spirit for the honor. The Redskins out-hit and out-fought the Eagles from the first quarter (when Safety Sean Taylor blasted WR Brown incomplete) until the end of the fourth quarter (when Safety Laron Landry blasted WR Curtis incomplete). The Redskins upcoming schedule looks like
camembert
on a warm summer afternoon.
I really enjoy the Philly fans booing their 0-2 team. Now that's funny. That's good comedy, right there.
The Redskins went for the kill shot in the 4th quarter on 2nd down. WR Santana Moss was open by thirty yards; QB Jason Campbell saw him running down the middle of the field and his eyes went big like fried eggs and he rocketed off a ball that was long by fifteen yards. It's awful hard to overthrow Santana Moss, and I don't think that will happen again.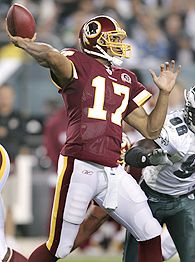 Campbell looks like a winner; his clutch 20 yard scramble and 3rd down conversions were exactly what the Eagles lacked. They got down the field in the two-minute offense and Campbell laid in a perfect TD pass for TE Cooley. Redskins pass coverage was excellent and intimidating. Our kick return will bust one soon and our FG kicker is 5/5. Yes, I do enjoy the empanadas of our Saviour.
The bad news is that the right side of the Redskins O-line is out. We're a right-running team, and now we have to go left. But it's ok, we're undefeated and facing the Gigantisms. Whoopee!
In a final note, I do absolutely believe that the Washington Redskins need to change their name. It is offensive on a political, sociological and personal level.
They should be called the District of Columbia Redskins.
Just kidding, folks. Don't forget to buy my novel when it becomes available in a few months.