Just a couple of ranked teams in action, and unfortunately, not against each other.
(13) Texas A&M 85, Fordham 61
I've been a doubter of Texas A&M from the start, and I don't see this result proving or disproving me. Beating up on Fordham is nice, and is exactly what a top 25 team should do. So should a top 45 team, frankly. I was far more impressed with their gritty loss against UCLA. Acie Law may be a badass, and A&M may be some great defense, but I just don't know if they are going to be gritty enough in the paint to play with the powerhouses in the league, unless they have one crazy-ass shooting night.
(25) Nevada 76, Saint Mary's 58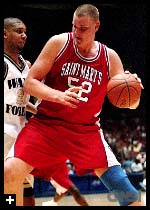 Nick Fazekas, the lanky big man of the Wolf Pack, used this game to get over 2,000 career points. Good on him. I don't think he woulda done it if Brad "Big Continent" were still playing, though!
Big Continent! Because he was so much bigger than Big Country! (not the band, the player, you know, Bryant Reeves.
NCAA AP Top 25 Poll came out on Monday.

New top 25's:
(24) Air Force, (22) Oregon, and (21) Notre Dame.

Most curious old team:
#23 Syracuse. They are dropping, but probably not fast enough. It should be noted that Syracuse is (just barely) out of the Top 25 in the Coaches' Poll.

Biggest Movers:
#7 Wisconsin jumped 4 places from last week's #11. Deservedly so. While the score didn't reflect it, they were in charge of Marquette (who fell 3 spots themselves to #20). Alando Tucker looks like a Big 10 Player of the Year Finalist. (paging Greg Oden).

#13 Texas A&M fell six places after two losses to ranked teams.

#15 OK State & #14 UConn stayed undefeated, and moved up 7 spots and 5 spots from last week. respectively.
I've learned not to second-guess Jim Calhoun's manuevering. They haven't played anyone super tough yet; the Big East isn't what it was (though it is a hell of lot more interesting than the Big "Ten" Conference) and UConn has lost a TON of great players the last 2 years. This ranking is indicative of the respect the program and Calhoun have garnered, as opposed to any really impressive wins. Much as Izzo always makes Michigan State dangerous, no matter what the rumor mongering says, Calhoun's Huskies are always quality, no matter how much buzz you hear about NC or Duke or Ohio State.
If you bothered to read this far, treat yourself to a read by a real college hoops writer--Seth Davis on the Top 10 Biggest Impact Coaches in New Programs.