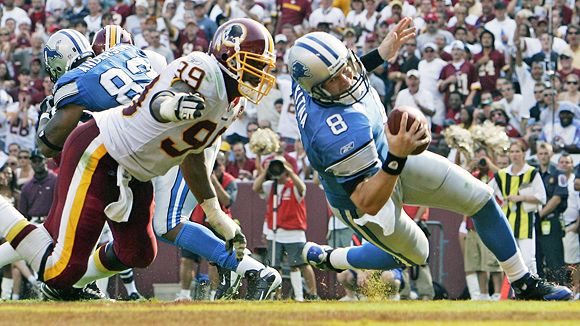 In the first match between Washington and the
dreadful
NFC North, the Redskins thoroughly spanked Detroit in every phase of the game, exultant in a shimmering
34-3
ass-kicking.
QB Jason Campbell was untouched by Detroit's cheesecloth defense and responded with the most efficient game of his nascent career: 80% completions for 250 yards and 2 TDs. His performance was flawless, poised and confident. This despite being without star WR Santana Moss and WR Antwaan Randle El, who was on his way to another career best (7 for 100) before he injured his hamstring.
The other players responded with key catches, including H-Back Chris Cooley and new WR Keenan McCardell. The run game was in favor of the Redskins by 50 yards and 15 carries and the time of possession obviously followed.
FB Mike Sellers
, after a terrible showing against the Giants, flattened Lions on his two-TD day.
The defense was relentless and the D-Line had its best day, chumming up five sacks including a safety, two sacks and eight tackles by
DE Andre Carter
. Carter now has seven sacks in seven games, going back to last year. The LBs made brutal tackles and the hard-hitting secondary obliterated the highly-dubious former #1 passing offense.
Sad sack QB Kitna (the sweetheart of pasty-white loser fantasy owners everywhere) was broken into small, irregularly-shaped pieces. He threw for 100 yards (a 3.6 avg) and 2 INTs, earning a
34.9 passer rating
. Remember, throwing ten passes out of bounds will yield a 33.3 passer rating. Kitna wasn't helped by his overhyped WRs, who started the game by falling down immediately to avoid the hit and quickly switched to avoiding the ball at all costs.
No one on Detroit seemed to want the ball after a few hits, which I find extremely gratifying. The Redskins jammed the lanky Detroit WRs, giving the D-Line time to break Kitna. The Lions were 1-10 on third down.
Listen up, because there is a lesson here. It's the same point I've been making about the Lions for years and I raised my voice when they once again selected a WR (Calvin Johnson, 1 catch for 3 yards and a dirty diaper) with their seemingly endless-supply of number-one picks.
It doesn't matter whether your WR runs a 4.3 40-yard dash, dumbass, you can't throw the ball if you don't have an offensive line
. Fire Millen? They should make him suit up and play QB as punishment.
The teams combined for nine fumbles -- not the sign of two well-oiled machines. The Redskins two-season long inability to seize the bouncing ball is still in evidence, though they closed out the game on INTs.
As flawed as the NFC looks this year, nothing I've seen so far makes me think the Redskins won't have a chance at the postseason if they maintain their combination of intimidating defense, hard running and poised passing.
The AFC still looks entirely dominant. Their best offense is the Patriots, averaging 36.4 ppg. Their best defense is the Steelers, at 9.4 ppg. Over in the NFC it's the Cowboys on O with 35.2 ppg and the Redskins D holding teams to 13 ppg.
The IDYFT Cup
1. (tie) Washington Redskins: 1 pt (vs. Det)
1. (tie) Green Bay Packers: 1 pt (vs. MN)
1. (tie) Detroit Lions: 1 pt (vs. MN & Oak, loss DC)
2. Oakland Raiders: -1 pt (loss Det)
3. Minnesota Vikings: -2 pts (loss GB & Det)
Next Sunday's 1 pm (EST) Washington at Green Bay game could be decisive in the 2007 IDYFT Cup. Catch the Excitement!