NFL Training Camp has begun and it's just about time to start salivating over the best sport in the world (take that, ice-fishers!). But before we glide into the preseason excitement, it might be worthwile to be haunted by the Ghost of Concussions Past...
Disabled NFL Players to Receive Free Lip Service!
Thusfar, the new NFL Commissioner Roger Goodell has made a name for himself by living by his promise to clean up the league's image. Although the NFL isn't perceived as being as "thuggish" (most left-leaning commentators parenthetically clarify that "thuggish" means black) as the NBA, it has enough membership in the Legion of Doom to warrant the scrutiny of white, upper-class executives.
But now, Goodell has announced a new initiative: helping former players survive their retirement. Consider: the average lifespan of a U.S. male is 75 years. The average lifespan of a retired NFL player is 58. For many of these athletes, the last years before death are spent in debilitating pain ... and poverty-stricken from medical expenses which insurance companies won't cover.
NFL players who are now 58 likely retired at least 25 years ago. The league was different in 1982, with only a handful of millionaires sprinkled among the journeymen. Offensive and defensive linemen, who received the most punishment while carrying the most weight, also received the lowest salaries. These are the players that Goodell is promising to help support, by chatting up an alliance between the NFL, NFL Players Association, NFL Retired Players Association, NFL Alumni Association, NFL Charities and the Pro Football Hall of Fame.
Goodell says, "All of us in the NFL want to help former players that now find themselves in need of medical care through no fault of their own. Several NFL-related groups have been working independently over the years to provide medical assistance, but now we will work together to identify and help players more effectively in a common effort."
More than 900 former players and/or their families have received financial help in recent years. 284 former players are receiving disability payments which total $19 million this year, including some that receive the max $224,000 annually.
It would seem that everything is copacetic. So why is Goodell making a big deal about some new initiative?
Let's start with
George Webster
.
George Webster was an All-American LB from Michigan State who played in the NFL from 1967 to 1977. He took the NFL all the way to the Supreme Court to have his disability pension increased ... and lost. He died from heart failure on April 19, 2007 at the age of 61. The last twenty years of his life were spent in agony.
Webster was unable to use a hand, foot, knee and ankle due to football-related injuries, but failed to meet the NFL's definition of totally disabled. His leg was amputated (after four surgeries) in 2002, four years after the Supreme Court smacked him down by finding that Webster's disability
was not related to his football career
.
If a disablility is football-related, the pension provides $4,000 a month. If it isn't, the pension drops to $750 a month.
Goodell's sudden interest in caring for retired veterans is a consequence of Webster's death, and the indifference with which the league treated him and his colleagues. This indifference shows up like a hive of bloated ticks, once you turn the hound's ear over. Consider Hall of Fame TE
John Mackey
.
John Mackey, called "the smartest man in the room" by former QB Jack Kemp, now suffers dementia at age 65. The former Colts TE, whose record-breaking 75-yard TD reception led the Baltimore Colts over the Dallas Cowgals in Superbowl V, now requires full-time assisted living. A hard burden to carry, considering he was underpaid in 1970 dollars.
Although UNC, in a study of 2500 former NFL players, showed that NFL players have a 37% higher risk of Alzheimer's, old timers like Mackey
cannot scientifically prove that their dementia was caused by the game
.
Embarrassed by the efforts of Mackey's wife, the NFL has responded with the "88 plan," named after Mackey's number. It provides $88,000-a-year for nursing home care and up to $50,000 annually for adult day care. Well, that's all well and good.
Former Steelers center
Mike Webster
is in the Hall of Fame, and considered one of the finest centers to ever play the game. He actually won his lawsuit against the NFL for disability payments. Unfortunately, he was already dead.
Legally disabled since 1996, Webster suffered amnesia, dementia, depression, heart attacks and acute muscle and bone pain. He was homeless for several years due to financial and personal ruin. His Hall of Fame acceptance speech in 1997 was long, rambling and largely incoherent. His wife finally divorced him six months before his death, which was nice of her.
Anybody remember
Darryl Stingley
(fans of Dave Chapelle/Charlie Murphy included)?
He's dead. Stingley, I mean. The Patriots WR was 26 when he was obliterated (legally) by the
Jack "The Assassin" Tatum
of the Raiders during an
exhibition game
. Stingley spent more than half of his life as a quadriplegic and died at age 55.
You don't get that much in golf.
Head of the NFLPA
Gene Upshaw
, who played for the Raiders in that game, has managed to increase benefits for players like Stingley from $48,000 in Stingley's time to $225,000 now.
Meanwhile, Jack "The Assasssin" Tatum had a leg amputated due to diabetes.
Brent Boyd
has been without legal recourse to deal with the clinical depression he has suffered since being knocked out in a 1980 preseason game for the Vikings.
The former LG is quoted in this story:
"The hit itself I don't remember. I remember when I came to, I couldn't see out of my right eye and I kind of panicked. This was 1980 and I don't even know if they used the word concussion. You were just trained to stay in the game. … You want this job? They better carry you off in a coffin."
More concussions followed, until he soon had difficulty remembering the names of his teammates, let alone how to play football. Out of the league, Boyd's marriage broke up and he was unable to hold a job.
MLB players Mark Grace, Rick Sutcliffe, Jeff Bagwell and former Bruins quarterback and actor Mark Harmon(!) helped keep Boyd off the street.
Boyd says,
"The NFL wouldn't do a damn thing for me. The major league baseball guys were making sure I was surviving and I hope that embarrasses the hell out of the NFL."
Boyd lost a suit against the NFLPA in federal court, and receives a minimal disability payment from league.
Boyd says
, "I'm just a guy nobody's heard of. But most of the guys who played in the NFL are like me, guys you've never heard of, and we're hurting bad. We need help."
In a related story, it was originally concluded that former Steelers lineman Terry Long died from brain swelling caused by repeated and chronic head injuries sustained during his professional career ... dementia puglistica, or "punch drunk."
Before his death, Long's life had fallen apart. While impossible to determine, it seems posssible that massive brain trauma could have been a contributing factor in helping him make the poor decisions that led to federal indictments for arson, mail fraud, insurance fraud and writing bad checks. Long had served a four game suspension in 1991 for a positive steroid test.
Long had attempted suicide by ingesting sleeping pills and rat poison. His death at 45 was evenutally determined to be a result of drinking
antifreeze
, an excruciating death. The NFL felt itself exonerated that Long's death wasn't a result of football-related injuries. Steelers team physician Dr. Joseph Maroon sees no connection between Long's brain injuries and his suicide solution:
"I think it's fallacious reasoning, and I don't think it's plausible at all. To go back and say that he was depressed from playing in the NFL and that led to his death 14 years later, I think is purely speculative."
The question of players returning to action too quickly after a concussion -- for example, Ben Roethlisberger -- receives scrutiny in this NIH study.
Objectively classifying the severity of concussions is not an exact science. Loss of consciousness and posttraumatic amnesia (PTA) are used to determine whether a concussion may be considered "severe" and when a player may return to action, but there are no actual guidelines in place. The decision as to when a player may return is usually up to the team doctor, who may be facing pressure from the owner, coach and player to give the green light.
Studies have concluded that after a concussion, the brain is extremely vulnerable to more damage. A slight reduction in blood flow, for example, can permanently destroy injured brain cells. Another concussion at this time can produce massive neurological damage or death -- even if previous concussions did not result in PTA or coma. Multiple concussions ended the careers -- sometimes after it was too late -- for Johny Unitas, Al Toon, Steve Young, Merrill Hodge, Troy Aikman (thanks Lavar!) and many others. None of them experienced coma or measurable PTA.
The cumulative effects of concussions are not well understood. After one concussion, the chances of incurring a second one have been measured as
six times greater
. Repeated concussions have been blamed for the brain damage which contributed to the suicide of former Eagles safety
Andre Waters
.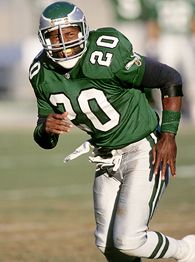 Waters's brain tissue was found to resemble that of an 85 year old man, with signs of early-stage Alzheimer's. He was 44 when he killed himself. He had been suffering from depression for several years, and the pathologist concluded that even if Waters had not committed suicide he would have been a vegetable in ten years.
An NFL spokesman hedged his bet:
"The subject of concussions is complex. We are devoting substantial resources to independent medical research of current and retired players, strict enforcement of enhanced player safety rules, development and testing of better equipment, and comprehensive medical management of this injury. This work over the past decade has contributed significantly to the understanding of concussions and the advancement of player safety."
Who will be the next NFL star whose career and life may be threatened by brain injury? The smart money is on
Ben Roethlisberger
. He was the 2004 Offensive Rookie of the Year (first QB to win that award since Bill "Who?" Shaw for the Bills in 1970) and the winning QB of the 2005 World Champion Pittsburgh Steelers. In the offseason, Ben sustained a life-threatening brain injury from a motorcycle accident. He returned to play in 2006 and quickly suffered another concussion. His coach made the very questionable decision to play Roethlisberger
the next week
against the Raiders where he, yes, sustained yet another concussion.
Coming up next: The Hammer and the Sicko Part 2.