In a game dominated by 26 mph winds, the Washington Redskins punched the Giants in the guts and watched them crumple.
With the wind making each pass attempt a wild, tremulous adventure, both teams' RBs found success on the ground, averaging five yards per rush. Redskins RB Portis was shifty and slippery, while Giants RB Jacobs punished would-be tacklers. The difference between the two was that Jacobs was entirely unable to catch dinky dumps out of the backfield, while Portis was a dominant blocker in pass protection.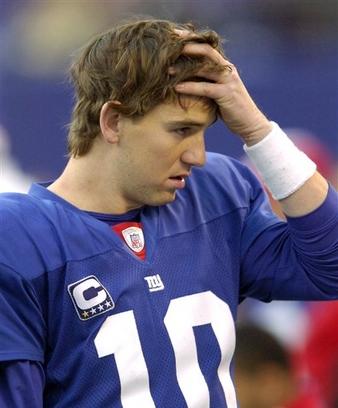 The Giants dug their own shallow grave by dropping every pass that came their way. Eli Manning is a lousy QB and conditions were very difficult, so he certainly didn't need help from his lame WRs and RBs. He threw
more incompletions (34) than anyone in forty years
, finishing up 18/52 for a 3.2 yard average and one fumble lost. His scrunchy little sad face is something to deride most mercilessly.
Redskins QB Collins, on the other hand, remained poised in the face of the gale. He had the advantage of WRs who made the catches that mattered (8 receptions at 19.5 yards each) and coaches who aren't completely fucking retarded.
The Giants called
fifty-two
passes in swirling 26 mph winds. In addition, almost all of the passes were short. Contrary to their expectations, short passes are harder to complete than longer balls in high winds. The reason why is that longer passes give a WR time to adjust to the fluttering duck, while short passes knuckle in sideways with no chance for a receiver to change his footwork, hand position or religious affiliation.
My favorite moment? When Giants fans began booing their team at the start of the second quarter. Think on that: the Giants were 9-4, virtually guaranteed a wildcard spot and down 3-0 with thirteen minutes left in the second quarter. And their fans were
booing
lustily. You could see the Redskins defenders looking at each other incredulously.
My second favorite moment? Giants TE Jeremy "Bitch Curls" Shockey having his leg broken like a piece of dry dogshit. See you next year, asshole. Love your boss USA tattoo, by the way.
As indicated by the weight of my remarks, the outcome of this game had more to do with what the Giants did poorly than what the Redskins did right. Such is the case in a game dominated by weather conditions. The one area where the Redskins were greatly superior was the excellent kicking of PK Suisham. He was 3/3 from 28, 31 and
49 yards
in very difficult conditions.
Next Week: Three-Time World Champion Washington Redskins take on the Minnetonka Vikings in the
most meaningful game in IDYFT Cup history
(which admittedly isn't saying very much) next Sunday at 8 pm on ESPN. I invite any Vikings fans to start talking shit now, because you have less than a week before it's all over for you.