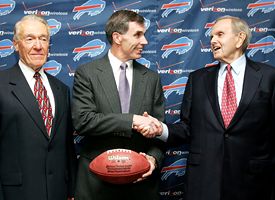 Bonus Question note: nobody picked Dick "Dick" Jauron as the first coach to be fired.
I figured that if the Bills had been content with his mediocore coaching for three straight 7-9 seasons (and
eight straight non-winning seasons
; for his career he had losing seasons nine out of ten times), they would stand pat at least until the end of the year.
Instead,
Bills ownership
has to eat his recently extended contract. Sounds like they got a touch of the ol' Snyder flu! This picture makes me think of "Trading Places." And hey, how is T.O. working out for you boners?
As for Jauron ... I wish I could say enjoy your retirement, but I'm sure you'll soon have your own show on ESPN with equally qualified expert Matt Millen.
Ten weeks into our IDYFT NFL Pick'em,
Miwacar
and
Barnyard
seem to be pulling out ahead of the pack. The pack, however, remains within striking distance. With more bonus questions in the coming weeks, even those in the rear will have an opportunity to make up some ground.
Bonus Question: the "last team standing" will be offered every week until one or both currently undefeated teams is eliminated; this bonus will compound other relevant bonuses, so enjoy!
Standings
1.
Miwacar:
38 points (
this week +8
)
2.
Barnyard:
36 points (
this week +8
)
3.
Jess:
26 points (
this week +3
)
4.
MMMan:
23 points (
this week +4
)
5.
Big BM:
21 points
6.
Adw:
12 points (
this week +1
)
7.
Leftnut:
11 points (
this week +4
)
Week 11
1.
Big Shoe-in?
+2/-4
2.
Little Shoe-in?
+1/-2
3.
Surprise!
+3 Underdog list:
Lions, Seahawks, Bucs, Generals, Jets, Oaktown
4.
Favorite/Disliked Team?
+/-1
5.
Clash of the Titans
: +/-2
San Diego Chargers at Denver Broncos
Bonus Questions
6. Which game will result in the most total points? +3
7. Which game will result in the least total points? +3
8. Last Team Standing: Colts or Saints? +2